One of our favourite events- The Show Spaniels Field Day - the one day of the year when the Show Spaniels (all breeds of spaniel) are given license to demonstrate their prowess in the hunting/shooting field. Two levels of competition - novice and advanced - and the all important Show Gundogs Working Test which is non competitive, simply pass or not.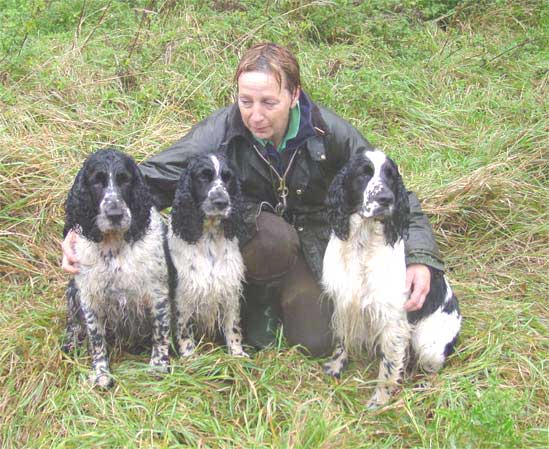 I took three generations of "Canouans". - Grandma Poppet, Daughter Pip, and Grandson Pomo.
First up Poppet in the "Qualifier".
The hunting test - Poppet was one of the last to run - and she hunted well, covering her ground, using her nose, was steady, but enthusiastic. It was a long hunt under both judges through sugar beet cover. She flushed two separate partridge but neither was shot. When both judges had seen enough she was sent back to the line to await a retrieve.
The Retrieve - This did not come until after lunch and to my absolute horror was duck. We do not have duck on our shoot! However she retrieved two shot duck to the satisfaction of the judges so we were still in.
Finally the Water Test - . There are just myself and the Welsh Springer Spaniel Cleavehill Guinevere remaining from a starting line up of 18 (with a couple of absentees). A small pond is used and this test is run using dummies. The pond is ring fenced with stock fencing and electric wire. Poppet went in, swam to the dummy, picked it and then got out on the opposite side. Horror, she could not get back. However she held her dummy and the judge allowed me to climb the fence so she could retrieve to hand. Which she did. PASS I am totally overwhelmed.
What a dog, she got me through the test with her sheer ability and enjoyment of what she was doing. Kevan has strict instructions to put the Certificate and Rosette in my coffin when I go to meet my maker.
So daughter and grandson to the Novice test. I was a bit "out of it" by now and very wet, but despite this both completed the test, an obedience/steadiness test, hunt up, and blind and seen retrieve, to the satisfaction of the judge, and though not featuring in the top honours made me proud, and a little sorry that I let them down due to my state of mind. Still there is always next year and perhaps one of them Toddy or Rachel will be ready for the qualifier.
The Show Gundogs Working Certificate is the qualification which takes the Sh Ch to a full Champion (Ch), either a pass at this, or a place or Certificate of Merit at a Field Trial. Each dog is tested in the line, the dog must show that it is not gun shy, and was off the lead during gunfire; that it will hunt, face covert, and retrieve tenderly, and that it will retrieve from water. The test is run on live game, in field trial conditions.
© Canouan English Springer Spaniels 2000/2004